Dundalk Chamber Skillnet and DkIT have joined forces to offer a "Business ReVive" programme to support businesses recovery post lockdown. The programme provides 70% funding to local enterprise to support conversion training on key skills identified as critical to long-term business recovery. The "Business ReVive" programme is due to commence in late September and the programmes include: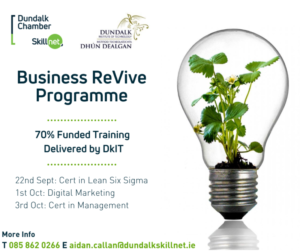 Dundalk Chamber Network Manager, Aidan Callan stated,
"We are delighted to have partnered with DKIT on this initiative, as the centre of learning in the North East, DKIT will play a key role in the recovery of the region. We're particularly keen to support businesses who've availed of the Temporary Wage Subsidy Scheme, Louth ranks highly on the number of subscriptions to the scheme leaving a significant number of jobs at risk."
The "Business ReVive" programme is designed to make the training more affordable and accessible with a focus on enabling participating businesses to make better business decisions, reduce costs and increase competitiveness along with the opportunity to drive sales through a defined Digital Marketing strategy.
Thomas McDonagh of UHY Farrelly Dawe White Limited, Dundalk Chamber of Commerce Treasurer and Skillnet Network Promoter added his agreement on the importance of upskilling to support business recovery.
"During difficult trading periods, training is typically the first cost to be cut, the "Business ReVive" programme ensures access to critical skills but with heavy subsidies making the training much more accessible."
Highlighting the Six Sigma programme, Thomas advised that process Improvement mixed with technology and innovation are key to survival in tough times. Implementing Six Sigma principles drive efficiencies, improve quality while increasing competitiveness and profitability. All key elements to surviving this difficult period.
Aidan Browne, Head of Innovation & Business Development at DkIT commented
"Interconnectivity and collaboration across industry and with progressive industry support organisations are at the heart of the DkIT engagement strategy. This initiative is a welcome commitment and a well-timed collaboration by both organisations that will see enhancement of the capability and capacity for participant companies to develop fundamental skills within their workforce across key operational excellence areas."
For more information on the "Business ReVive" programme contact [email protected]
Who are we
Skillnet is the national agency dedicated to the promotion & facilitation of workforce learning in Ireland.
Our approach
Skillnet Ireland networks operates under a joint investment model whereby learning networks can apply to receive up to 50 percent of the cost of training from Skillnet Ireland, and the remainder of costs are funded in matching contributions from participating businesses in the learning network. The approach has received international recognition as a model of best practice from the OECD, amongst others.